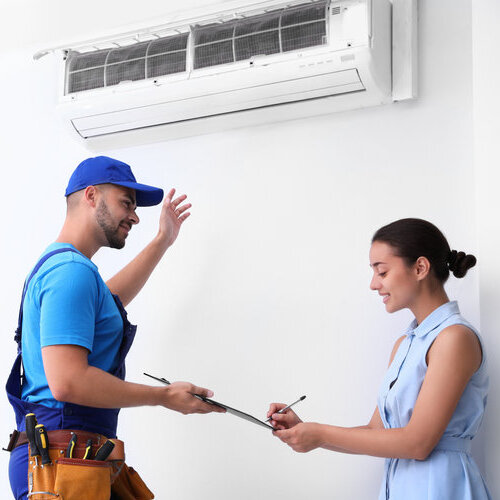 Review Our Wide Range of Air Conditioning Services
If you're looking for an air conditioning service company that can help keep your home or office cool during the hot summer months, then look no further than Universal Plumbing Heating and Air. We offer a wide range of heating and air conditioning services and our team is always available to answer any questions or concerns you may have.
No matter the prevailing circumstances, if you're in need an air conditioning service company in Tustin, CA that can keep your home or office cool and comfortable all summer long, please don't hesitate to contact Universal Plumbing Heating and Air today at 949-619-3081. We'll be more than happy to discuss your needs and provide you with a free, no-obligation estimate. We thank you for your time and look forward to serving you in the future.
How do air conditioning systems work?
Air conditioning systems work by moving warm indoor air across cold cooling coils full of refrigerant. Heat will be absorbed into the refrigerant as the refrigerant turns it from liquid to gas. Cooled air will then be distributed through ducts and vents across the property. There are various other parts and components that add to this process as well.
What are the major components of an air conditioning system?
The major components of an air conditioner can be separated into four main components: the compressor, expansion valve, evaporator coil, and condenser coil. Each component of your AC will ultimately play a specific role in providing cool air into your property. Learn more about these parts by connecting to an expert HVAC technician.
Is it cheaper to leave air conditioner on all day?
In general, it's cheaper to leave the AC on all day when there are very hot temperatures yet it's not energy efficient to keep it on at full blast all of the time. What's more, a powerful blast will mean less efficient cooling, higher energy bills and more frequent repairs over time.
Reliable Air Conditioner Parts Replacement
If you're in need of a new air conditioner part, we can help. We carry a wide range of parts for many makes and models of air conditioners, and we're sure to find the right part for your needs. Our team also offers installation services, so if the air conditioner unit can't be salvaged due to age or degradation, we can provide you with a competitive air conditioner replacement quote. Contact us today to learn more about our air conditioner parts replacement services.
Air Conditioner Replacement and Install
If you're in need of a new air conditioner, our team at HVAC Company can help. We offer replacement and installation services to ensure that your new unit is properly installed and operates efficiently. We'll work with you to determine the best location for your new air conditioner and ensure that it's the right size for your space. We'll also dispose of your old unit and recycle it properly.
24/7 Emergency Air Conditioner Repair
If your air conditioner breaks down during a heatwave, it can be a nightmare. An emergency air conditioner repair service can help get your AC unit up and running again quickly. Our team of experienced technicians is available 24/7 to help you when you need it most. We understand how important it is to have a working air conditioner, so we'll do everything we can to get your unit back up and running as soon as possible. Give us a call today, we're here to help.
Mini Split AC Systems
Mini split AC systems are a great way to keep your home cool and comfortable during the summer months. These systems offer many benefits over traditional air conditioning units, including improved energy efficiency and greater flexibility in terms of installation. Have them installed in home additions or individual rooms with our team of experts.
Whole House Air Purification
It's no secret that the quality of the air we breathe has a direct impact on our health. And in today's world, with all of the environmental pollutants and indoor allergens, it's more important than ever to make sure our homes are as free from airborne contaminants as possible.
One of the best ways to do this is to install a whole house air purification system. These systems are designed to remove all of the contaminants from the air in your home, including dust, pollen, pet dander, and even bacteria and viruses.
Not only do they improve the quality of the air you breathe, but they can also help to reduce allergies and asthma symptoms. Improve your indoor air quality with an installation today.
Consider us as your air conditioning service company in Tustin, CA and contact us for to schedule services.
Schedule a Consultation
As a professional air conditioning service company in Tustin, CA, we pride ourselves on providing top-notch service to our customers. We understand the importance of keeping your AC unit running smoothly and efficiently, and we are here to help. Whether you need a tune-up, repair, or replacement, Universal Plumbing Heating and Air can help. We offer a variety of services to choose from, so you can find the perfect one for your needs. We also offer a variety of payment options, so you can choose the one that best suits your budget. Contact us at 949-619-3081 to schedule a free consultation. We look forward to serving you.